Installing the Video Card
Modern motherboard come with integrated with video adapters or AGP (Accelerated Graphics Processor). However you may have your personal preference of AGP or video cards to attach to your motherboard.
AGP: The AGP port is the brown slot at the top of the row of peripheral (PCI) slots that runs down the board. Ensure that the catch (AGP Retention Mechanism) at the far end of the port is open, if it is present.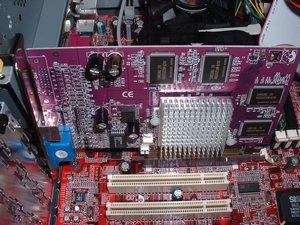 Insert the card firmly into the AGP slot. It should settle evenly, with just a tiny fraction of the gold traces at the bottom of the card visible. Screw the card into the expansion bracket.
| | |
| --- | --- |
| PCI videocard: PCI ports are the white slots running in a row down the rear edge of the board. Which port you choose is fairly irrelevant, though with modern video cards, it is always a good idea to leave the slot below the one you install the card in empty to aid in ventilation of heat. Simply insert the card firmly into the slot. It should sit evenly once inserted, with only a fraction of the gold traces on the bottom of the card visible. Screw the card into the expansion bracket. | |